Historical Places To Visit in Pakistan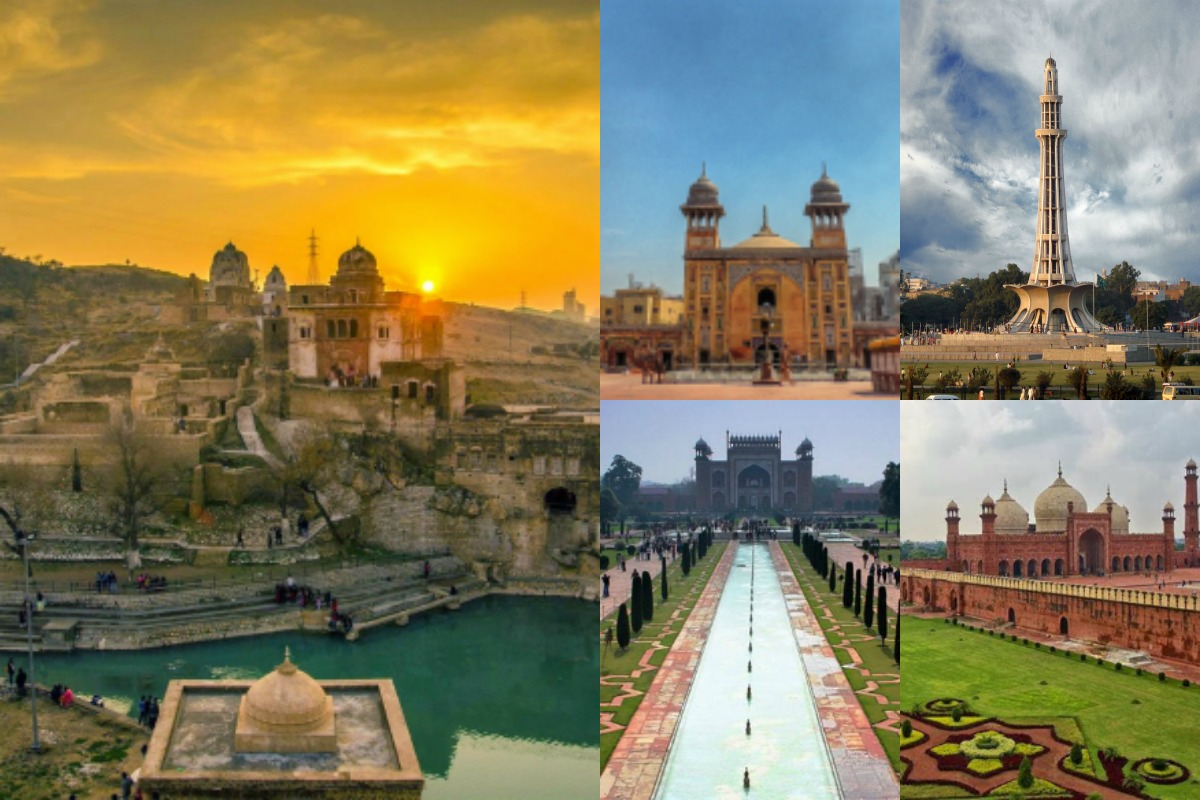 Historical places are known as the heritage of the country and Pakistan is listed among the famous countries because of its historical and archaeological places, as these places are known to attract tourists from all around the world and express the uniqueness of Pakistan on earth. People come from different countries to visit Pakistan due to its ancient legacy of historical places. The following places are globally recognized as a cultural category by UNESCO. These places include archaeological ruins of Mohenjo-Daro in Larkana, Taxila in Punjab, RoyalFort (Shahi Qila) and Shalimar Gardens in Lahore, Rohtas Fort in Jhelum, Makli Necropolis in Thatta and Ruins at Takht-i-Bahi in Khyber-Pakhtunkhwa.
However, there are some other famous historical places of Pakistan individuals should also visit in their lifespan. These historical places Include Derawar Fort in Cholestane dessert, Badshahi Mosque Lahore and Katas Raj Temples.
Mohenjo-Daro
Mohenjo-Daro means "Mound of the Dead Men", it is an archaeological place built in 26th century BCE and situated near the right bank of Indus River in Larkana city district of province Sindh. This 5000 years old city was discovered in 1922 and it is considered to be one of the earliest and largest urbanized cities of Indus Valley Civilization in South Asia. It was the most advanced city of its time and the entire city was built from unbaked brick. It's unique, well planned and rectilinear styles hows the wisdom and sophisticated lifestyle of its inhabitants.
Taxila
Taxila means "City of Cut Stones". It is also known as the most significant archaeological site in South Asia as it was one of the main cities of ancient Kingdom of Gandhara(include Pakistan & Afghanistan) and it was founded in 1000 BCE. Taxila was considered to be an important place for Buddhists and Hindus. Even today it attracts tourists from all around the world, especially Buddhists and monks. It is located near modern Taxila city about 32 kilometers north-west of Islamabad and Rawalpindi. It is listed as World Heritage Site in 1980 and In 2006 Taxila was declared as the prominent tourist destination in Pakistan by the Guardian newspaper (a British daily newspaper).
Lahore Fort
Lahore Fort also is known as Shahi Qila and it is situated in Lahore, an internationally famous and 2nd largest city of Pakistan. It is a well-known masterpiece that was built in the Mughal era. The fort was built primarily for residential purpose, but it was also used to achieve some military goals. History doesn't tell us about its founder but the modern fortress was built by Mughal emperor Jalal Uddin Akbar in 1566, who took a special interest in its up-gradation. This enormous fortress is spread over an area of more than 20 hectares. The fortress has 21 historical and remarkable monuments that attract visitors from different countries.
Shalimar Gardens
The historic Shalimar Gardens are one of Pakistan's most beautiful tourist places located in the Lahore, the capital of Pakistani province Punjab. The construction of the gardens was started in1641 and completed in 1642 during the reign of Emperor Shah Jahan. Shah Jahan completed the whole project in just 1 year as he was also known to be a great nature lover. The structure of the gardens is incredible as its parallelogram shape is covered by a beautiful high brick wall. The three terraces of the garden provide it a unique and glamourize look and each terrace is at a height of 5 meters above from the other terrace.
Rohtas Fort
The Rohtas fort is very famous due to its large and strong defensive walls. It is an exceptional example of military architecture of central and south Asian Muslims. This 16th-century antique fort is situated near Jhelum city of Punjab province. This remarkable fortress was built during the rule of Emperor Sher Shah Suri from 1541 to 1548 to conquer the local Gakhar tribes of Potohar area. The Rohtas fort is one the biggest and most formidable in the subcontinent and was never stormed by any external force, which is why it is survived extraordinarily intact and UNESCO inscribed Rohtas fort as World Heritage Site in 1997.
Monuments of Makli
Makli Necropolis is one of the largest funerary and memorial sites in the world, which is extended to an area of 10 square kilometers situated in the town of Makli, approximately six kilometers from the city of Thatta, in the province of Sindh. This place holds roughly 500,000 tombs built over the period of 400 years from 14th century to 18th century, and these tombs belong to different personalities including few royal family members, various Sufi saints, and some respected scholars.
Takht-i-Bahi
Takht-i-Bahi is considered among the last surviving sites of early Buddhist in the region as it was constructed in first century CE. The meaning of Takht-i-Bahi is "Throne of the Water Spring", the ruins of Takht-i-Bahi is an Indo-Parthian archaeological site of an ancient Buddhist monastery located about 15 kilometers from Mardan city in Khyber-Pakhtunkhwa province. This site is known to be one of the most striking relics of Buddhism in all Gandhara (include Pakistan & Afghanistan) and the site is also extraordinarily well preserved till now. All the buildings of the site are prepared from ordinary stones and mud. There are five prominent parts in Takht-i-Bahi; these areas include "The Stupa Court", "The Monastic Chambers", "The Temple Complex", "The Tantric Monastic Complex" and "Meeting Hall".
Derawar Fort
Derawar Fort is an amazing place to visit in south Punjab, it is a huge square fortress comprises of large walls and massive bastions rising into the sky from sands of cholistan dessert. It is located in Ahmadpur East, Tehsil Yazman, about 130 kilometers south of the city of Bahawalpur. The foundation of Derawar forest was laid by a Rajput ruler of Bhatti clan named Rai Jalla Bhatti in the 9th century AD. This historical fort presents a striking look even miles away in cholistan and its huge forty bastions look like knights guarding the fort in the heart of the desert.
Badshahi Mosque
The Badshahi Mosque is also known as the Imperial Mosque and is located west of Lahore Fort (Shahi Qila). It is known to be one of Lahore's most iconic landmarks built in the reign of sixth Mughal emperor named Aurangzeb Alamgir. The construction of the mosque is completed in just two years from May 1671 to April 1673. This mosque is an important example of Mughal architecture just like Shahi Qila and Shalimar gardens. And a few years ago a small museum has been added to the mosque, which contains some precious and priceless belongings of Muslims beloved Prophet Hazrat Muhammad (P.B.U.H) and his beloved daughter Hazrat Fatima Zahra(R.A).
Katas Raj Temples
Katas Raj Temples are also known as Qila Katas, it is a complex of several Buddhist and Hindu Temples connected to each other on walking distance. The name of the temples supposed to be derived from the Sanskrit word "KATAKSHA" meaning "Tearful Eyes".It is a very holy place for Hindus and many Hindu pilgrims visit these temples on special occasions like Holi and Dewali etc. There is a very attractive and beautiful pond in the middle of the temples complex and its water is highly clear. The complex of these temples is situated near a famous town of Kallar Kahar in Potohar Plateau district Chakwal province Punjab. Hope you enjoyed reading the article Historical Places To Visit in Pakistan, you can share your views and suggestions in the comments section to improve the details in a better way. Here we have prepared a list of historical places to visit in Pakistan. If you want to travel around Pakistan you can follow this list of historical places to visit in Pakistan. If you feel, some important places are missing you can suggest, we will review and publish this to this page. You can also get the list of Embassies in Pakistan and visa information here https://www.visas.com.pk.