Basic Requirements For Study Abroad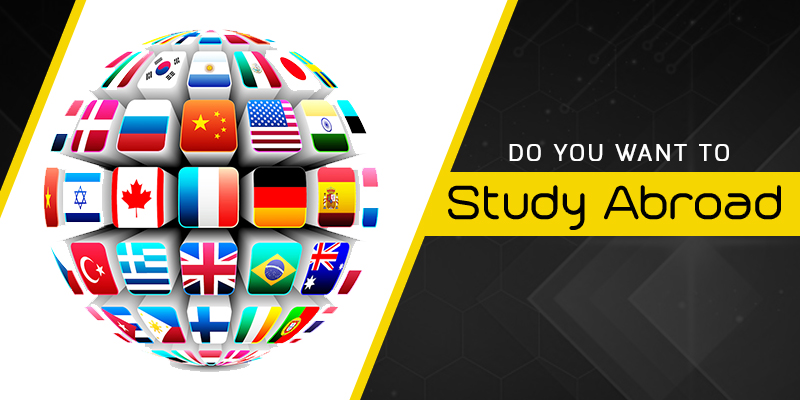 Today we are going to share some basic requirements for study abroad. Now a day studying in abroad is becoming a famous trend among the students. Every year the number of students going abroad is increasing to a great extent. An international degree not only adds a great value to the individual's CV but also equips one's personality with different versatile skills and work abilities. The universities of the foreign countries like United Kingdom, United States of America, Australia, Canada, and Europe are far more advanced in technologies, research work, and other academic features. Therefore, a person graduated from such universities is more capable of getting the desired job and other business projects.
ALL YOU NEED TO KNOW ABOUT STUDY ABROAD
Guide and Requirements For Study Abroad
At present, almost every student desires to study in abroad, but applying for studying in abroad isn't simple as many of us consider. There are a number of requirements that need to be fulfilled when applying for studies in abroad. Though the criteria of different countries vary due to their local laws, SOPs and policies but there are few basic requirements that can make individuals suitable for getting an opportunity to study or work abroad. We will now briefly highlight some of the basic requirements for studying in abroad.
International English Language Testing System (IELTS)
IELTS (The International English Language Testing System) is the world's most popular English language proficiency test when it comes to applying for higher education abroad and global migration. Passing IELTS academic test is the most important and basic requirement for studying in abroad. Many advanced countries like United Kingdom, United States of America, Australia, Canada, Germany, and few other European countries require IELTS before applying for higher education. The acceptance band score varies in different countries from 6.5 to 7. One of the most reliable organizations for IELTS is British council.
Educational Record
Strong educational record of a recognized institute will help individuals to get enrolled for studies in a foreign country. The requirements of academic record vary for different disciplines in different countries, but higher grades will definitely increase the chances of securing admission in foreign countries for studies. Graduation program requires good passing percentage in F.Sc or A-Level while applying for master level studies individuals need to secure high CGPA in the university.
Declaration of Applicant's Purpose
Declaration of applicant's purpose is an important requirement; it is a kind of statement containing the reasons and intents for applying for studies in a particular country or institute. In this statement, the applicant will precisely describe his/her interests, experiences, ambitions, motivations and future goals for applying in the particular discipline. A convincing and effective statement is key to get the enrollment opportunity abroad. The word count of statement varies in different countries but usually, applicants are asked to provide 1000 words statement.
Financial Statements
The programs of studies in abroad include different costs including tuition fees, room rent, medical insurance, passport & visa fees, and transportation expenses. These financial statements also used as a guarantee of the students living, studies and accommodation expenditures. So, before applying for studying in abroad, a person needs to fulfill some financial requirements like bank statement of student's parent, guardian or their source of income. The written proof of such financial statements is needed by the sponsoring institution in order to avoid the risk of fraud, corruption and other issues in the future.
Physical Fitness & Health
The physical fitness and the health conditions of the applicants are the most common and basic requirement when applying for studies in abroad. It is mandatory for the applicant to get vaccinated, and certain medical test results are also needed by the sponsoring institution in the foreign countries in order to ensure physical fitness, mental health and security of the applicants before sponsoring to avoid medical and health issue during the period of his/her stay. Physically fit and mentally healthy applicants get more opportunities to study abroad as compared to applicants with poor health.
Character Certificates
The character of the applicants plays an important and key role while applying for studies in abroad. All the countries ask for the applicant's surety to avoid unfortunate circumstances in the future. In this case, the applicants need to arrange some relevant character certificates from their educational institutes as well as from their home country before applying to study abroad. The sponsoring institute requires these certificates after attestation and then their management team further verifies the provided certificates from their own authentic and trusted sources. Every abroad institute has its own expectations, and it is mandatory for the students whom coming from different countries is to fulfill these expectations from the core of their heart. The students will have to demonstrate a serious, convincing and positive attitude towards the studies. All the students need to provide valid and strong reasons for choosing the specific discipline in the respective institute. Furthermore, the students will have to establish a sense of responsibility, maturity and should abide by all the SOPs, local laws, terms and conditions of the institute in order to smoothly continue the studies in abroad.
After Completing the Formalities
After completing the above-mentioned formalities, the applicant finally needs the sponsorship letter from the foreign institute on its letterhead in which the applicant wants to get enrolled. The letter should include the following details about the applicant such as sponsorship offer, tuition, room, discipline and board costs. So, one should definitely work very hard to get the sponsorship letter. Because without sponsorship letter the applicant won't be able to go for studies in abroad. The above-highlighted facts are some of the basic and essential needs for everyone to be fulfilled before applying for studies anywhere in the world. These are the general requirements while applying for studies in abroad, but in some countries, the criteria may vary as per their local laws and government policies. We believe that this article will help you a lot in order to decide your future plans for studies abroad and make you capable to set up your career goals. You can also get the list of Embassies in Pakistan and visa information here https://www.visas.com.pk.